I received my parcel from my swap partner. Jaana - Is it you that I must say,
Thank you thank you thank you!!!!!!!!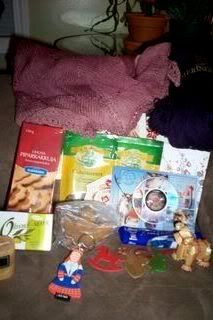 I received the most gorgeous shawl - I believe it is handdyed, some wonderful treats including gingerbread cookies (a personal favourite of mine!), olive soap, a clove scented candle, some other yummy treats, a Lapland keychain, some sweet little ornaments for my Christmas tree, a dvd postcard from Finland, a day planner, some glittery window cling decorations and gorgeous purple laceweight merino silk. Ahh... heaven...
Oh, and here's a good picture of my new shawl! Isn't it fantastic?!?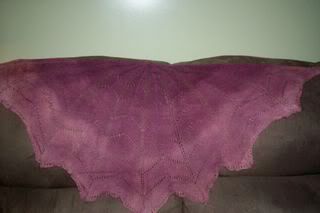 I am definately planning my work outfit tomorrow around my new shawl though.
What a wonderful generous parcel to receive! It cheered me tremendously today after the last few days which have been very stressful. What a pick me up! Merry Christmas and a wonderful new year!
Sarah Jane